Software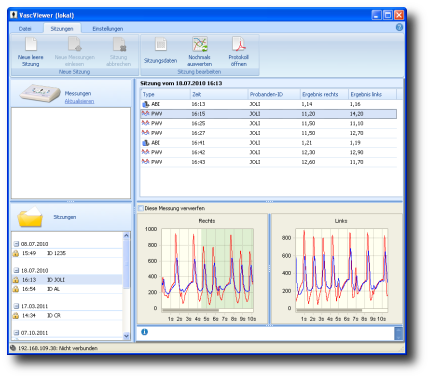 The analysis software VascViewer is available on an optional basis for you to use with VascAssist.
With it you can obtain graphic analyses of the measurement results. In the case of PWV these will incorporate the stored nomogram data.
Additionally the pulse pressure curves will be displayed graphically and you will be able to interpret arrhythmia and curve changes.
System requirements
For the VascViewer use a current PC running Windows operating system (Windows XP and following) and Microsoft. NET Framework (version 3.5).
You also need write access in the program directory of VascViewer.
Installation notes
Download the VascViewer setup first to your PC (Version 2.3, 12/2011):
SetupVascViewer.zip
(Link is password protected. Please ask for authorization data.)
Unpack the ZIP archive into a directory of your choice and run the included setup program Setup VascViewer.msi.
Follow the installation steps as shown. After installation open the application by double-clicking the desktop icon VascViewer or by Start/Programs/iSYMED GmbH/Shortcut to VascViewer.
Switch the application window to the Einstellungen tab and press the Geschützte Einstellungen bearbeiten button.
Enter the dates of your practice or institution, and press the button Praxis/Zentrums-ID generieren.
You then transfer the data by clicking Geschützte Einstellungen speichern.
Connect the VascAssist either directly by a cross-over cable to the network connection of your PC, or make sure that both the VascAssist and the PC are connected via the same network.
Press the button Mit neuem Gerät verbinden and use the appropriate input box to enter the IP address of the VascAssist. After saving by Ok the corresponding VascAssist will be added to the list of known devices. The icon at the entry indicates whether a connection is possible (green) or not (gray).
The VascViewer will then be ready for reading and analysing measurement results of VascAssist.
Usage of VascViewer
A short guide to using VascViewer can be found
here
.